This story was updated Friday at 6:30 p.m. to include statements from a property manager connected to the IX parcels and a spokesperson for the IX Art Park Foundation.
Two large pieces of property in downtown Charlottesville — the IX Project and the adjacent City Center — are for sale.
For $84 million total.
Located between Monticello and Elliott avenues, a few blocks southeast of the Downtown Mall, the properties are together known colloquially as "IX." Both are owned by Ludwig Kuttner's Monticello Associates LLC. (Kuttner owns other properties in the city, as well as an estate in Esmont.)
Last year, the two properties were together assessed for just shy of $20 million. Monticello Associates bought the properties, former site of the Frank Ix and Sons textile factory, in 2000, and Kuttner has appealed the properties' assessment value to the city at least once, claiming the assessments were too high.
The IX Project parcel is currently home to the IX Art Park, a large outdoor space with colorful murals and painted pavement that is utilized for concerts, social dances, a seasonal farmers' market, the annual Black Business Expo, and other events planned and run by diverse community groups. The building on that property also houses locally-owned American Sake Brewery and a Three Notch'd Brewery restaurant-bar and production facility. The indoor arts space has hosted metal shows, nonprofit arts fundraisers, and shadow-casts of the cult classic film The Rocky Horror Picture Show. The outdoor stage has regularly hosted the annual Cville Sabroso Latin American food and culture festival, and once hosted an all-day local rap concert to close out the now-annual Nine Pillars Hip-Hop Cultural Fest.
The seventh annual Cville Sabroso Festival took place on Saturday, Sept. 21 at the IX Art Park.
Credit: Ézé Amos/Charlottesville Tomorrow
The adjacent parcel, referred to in the listing as "City Center," currently houses a variety of locally-owned businesses, including J Bird Supply Coffee, Brazos Tacos, a Lampo Pizza outpost, and the shared workspace-cum-art gallery Studio IX. Currently, Studio IX is hosting a show by Geechee photographer Marley Nichelle, which is part of a series sponsored by the Prolyfck Run Crew highlighting the work of local Black artists. 
It's also the home of Computers 4 Kids, a nonprofit that offers technology resources and mentoring free of charge to local youth in 6th through 12th grades who are eligible for free or reduced lunches at school. Kids have built air-powered rockets, 3-D printed chess sets, and more.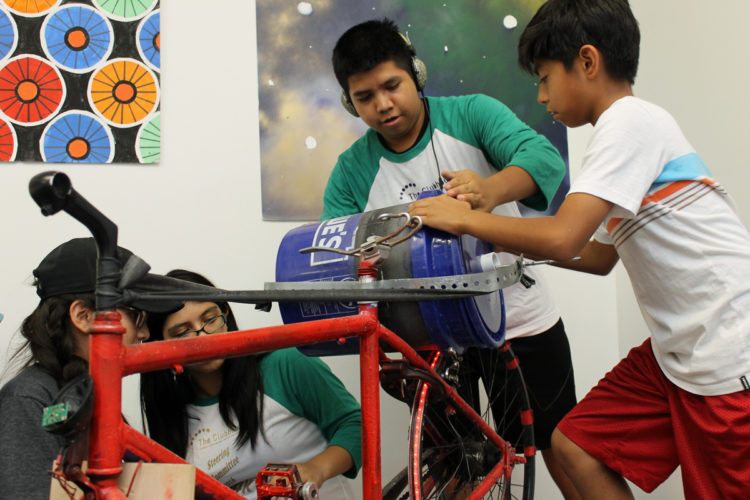 (L to R) Karen Bernardo, Eva Quezada, Emmanuel Quezada & Jose Aparicio fine tune "The ice cream machine" at the grand opening of Computers4Kids' Clubhouse@C4K program
Credit: Brian Wheeler, Charlottesville Tomorrow
Both property listings state that the sale "opportunity is subject to current leases."
In a statement released late Friday afternoon, a spokesperson for the IX Art Park Foundation said that "there is no plan to demolish existing buildings or displace current tenants."
According to the release, the IX Property owners, Ludwig Kuttner and Allan Cadgene of Monticello Associates LLC, have recently received "a significant amount of unsolicited interest in the future of undeveloped portions of the IX property," and that "some of this interest addresses the current housing shortage in Charlottesville, including affordable housing."
The property listing for the Elliott Ave. parcel advertises the site as a "great opportunity for primary economic development, Tech Campus, superior mixed-use," and says that "the site currently carries approximately 300,000 [square feet] of leased area with various opportunities for land development/redevelopment." It also emphasizes that the plots can be subdivided into smaller parcels.
A second advertisement, for the 2nd St. SE property, says that "the entire site is zoned to accommodate substantial redevelopment."
"The 17 acre span of property allows for room for various ideas to occur, without disrupting the current businesses," Erin Hill, a property manager connected to the IX parcels, wrote in an email to Charlottesville Tomorrow.
The IX Project and City Center properties are considered prime real estate, and both listings tout similar amenities: Proximity to the shops and restaurants on the Downtown Mall, and to both the University of Virginia and Monticello. It's close to I-64, too, which offers easy access to the Blue Ridge Mountains.
IX is also surrounded by three low-income housing communities — Sixth Street and Crescent Halls, owned by the Charlottesville Redevelopment and Housing Authority, and Friendship Court, owned by local housing nonprofit Piedmont Housing Alliance. All three are in various phases of redevelopment led by residents.
The potential sale of these properties comes at a time when Charlottesville is at the beginning of a city-wide rezoning process that officials hope will help address what they have called the area's affordable housing crisis.
Both properties are in an area designated an "Urban Mixed-Use Node" in the city's Future Land Use Map, a component of the recently-adopted comprehensive plan that serves as a guide for how land is to be used throughout the city. The "Urban Mixed-Use Node" land use category is meant to "support housing, employment, and commercial development." Within that category, the FLUM also encourages a mix of uses (i.e., housing, employment, and commercial) in the same building, and requires any future projects to "respond to existing residential, environmental, historic context, and recommendations provided in previously-adopted Small Area Plans" (see the one for this area here).
Editor's note: This story originally referred to an assessment as the "value" of the property. An assessment does not necessarily reflect the market value, so we've corrected the error.